CBD, Hemp & Cannabis Culture Holiday Shopping
by Canna Pop Up - 1 month ago

Celebrate our 1 Year Cannaversary




Where Haute meets hippie. It's unique. It's social. It's fun. Be ready to lift your mood and enrich your life at a Canna Pop-Up event where the canna-curious, novice, and seasoned cannabis enthusiasts will sample, shop, and savor a CBD experience to remember.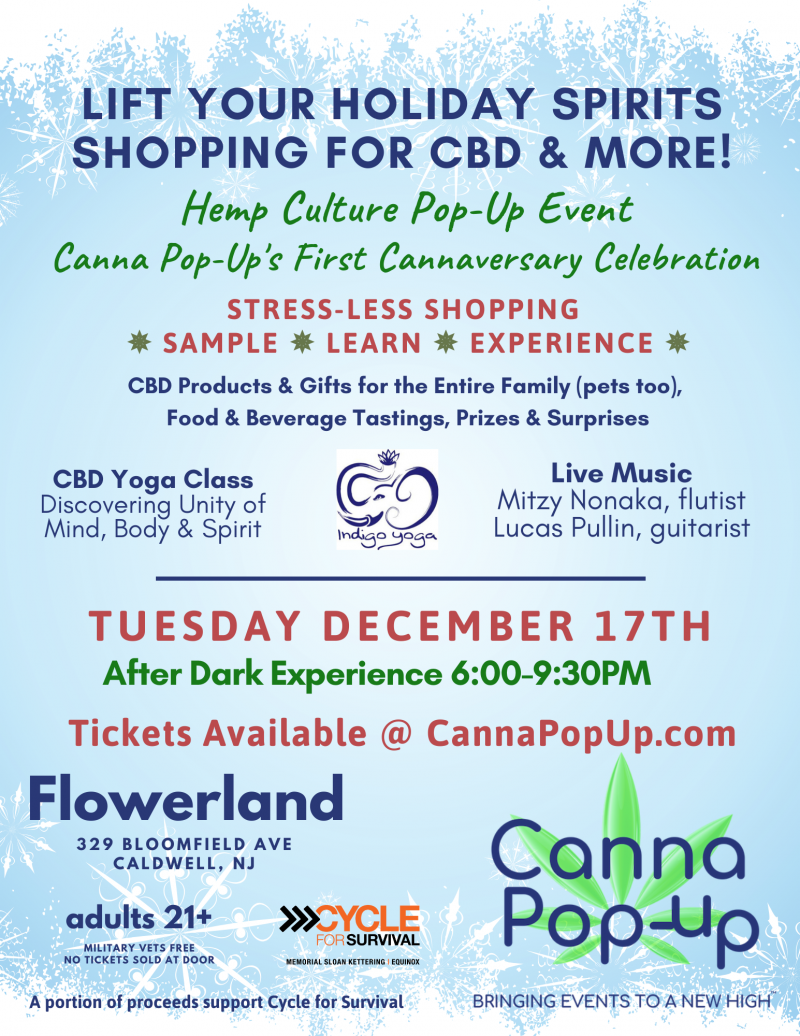 We bring people together to learn about Hemp-derived CBD for health, wellness, fitness, self-care, and caregiving. Canna Pop-Up showcases a curated selection of the best products and services from high-quality brands you will want to meet. 




CBD essentials, accessories, wellness and beauty products, edibles and more will be available to ease your busy lifestyle and nourish your mind, body, and spirit. All attendees get "Pop Bucks" to shop and save.




Industry professionals educate and share information that will elevate your understanding of what's safe and legally available. 




Through our events, you will learn more about the amazing benefits of plant-based CBD, how to get a medical marijuana card, and most of all are inspired to consider an alternative, natural therapy for you and your pets.




Get Tickets http://bit.ly/Flowerland1217




6:00 PM - 9:30 PM Holiday Shopping, CBD Yoga Class, Live Music, Food & Beverage Tasting, CBD Sampling & Shopping. Giveaways – CBD Massage. 




7:00 PM -8:00 PM Optional CBD Yoga Class at Indigo Yoga




Everyone gets $20.00 in Pop Bucks to spend with the vendors.




Military Veterans get complimentary tickets. 




We are proudly supporting Cycle for Survival through our event.




Get Tickets http://bit.ly/Flowerland1217