CBD, Hemp & Cannabis Culture Pop-Up
by Canna Pop Up - 7 months ago
Cannabis Culture Pop-Up Event Thursday, June 6, 2019
The best way to describe the Canna Pop-Up event is one part social event, one part education, one part foodie, one part art exhibit, and ALL parts for anyone with an open mind. Pop-up experiences last for only a brief period of time. They are transitory and as a result, exciting and compelling.


The Canna Pop-Up experience will elevate your senses to a higher level. We bring people together to learn about hemp-derived CBD for health, wellness, self-care, and caregiving. Our pop-up events will exhibit what tasteful, responsible adult use could look and feel like. Speak to professionals on obtaining a Medical Marijuana card. Attend Pop Talks and learn about how to best use the power of CBD products.

The cannabis industry has made remarkable strides and it's our desire to help shape the cannabis landscape in the NJ/NY area and create buzz and excitement about medical and adult-use. Until then, we have a very powerful supplement, Cannabidiol (CBD), a cannabis extract legal in all 50 states and is proven to have calming and stress-relieving effects, among other positive health benefits for a variety of medical and social conditions.

Use code:BARISTANET66 for a discount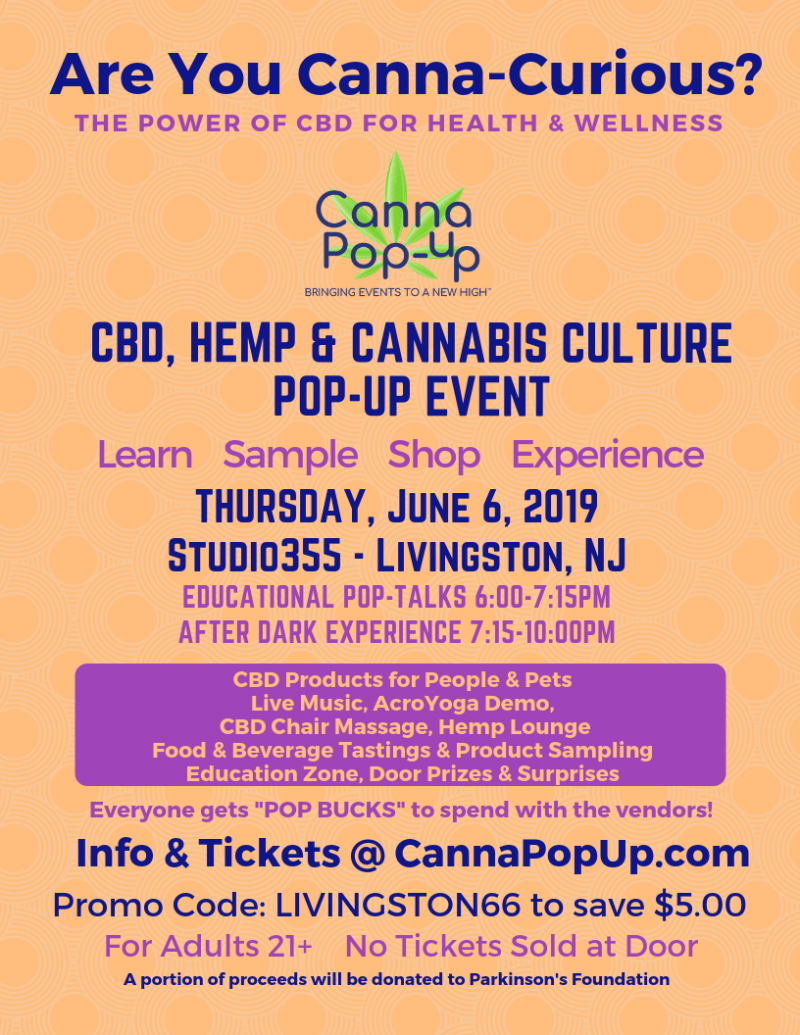 Eat. Drink. Shop. Mingle.

A unique and engaging environment where you can sample a variety of high-quality canna-culture products, enjoy tastings, and learn about services. Bring your wallet to shop from our sponsor partners for you and your pets.

CBD Demos & Education

Meet the founders and suppliers of top brands of CBD. Education is paramount when learning about the healing benefits of CBD.

Music and Giveaways

Pop-Up means fun. Dazzle your senses and expand your mind. Music, surprises and giveaways throughout the night for an unforgettable experience.

Education 6:00 PM Doors Open- 6:30 PM Education Session

Learn from our educators about the power of CBD. Brand ambassadors from our VIP Sponsor Group will be on hand to share the latest information about their brands.

After Dark Experience 7:15 PM - 10:00 PM

CBD sampling & shopping. Live music. Door Prizes including a Magical Butter Machine Entertainment. Infused food & beverages.  CBD Massage. All attendees get "Pop-Bucks" to spend with our sponsors. Exclusive discounts.

Get Tickets
Use Code:BARISTANET66 for a discount

Proud to support the Parkinson's Foundation.

For adults 21 and over only. 

No tickets will be sold at the door.

NOTE: No products containing THC (with the exception of Full Spectrum CBD products containing no more than .03% THC) will be at this event due to local New Jersey law and regulation. The consumption of cannabis is illegal and not permitted on the premises. Failure to comply will result in removal from the event.